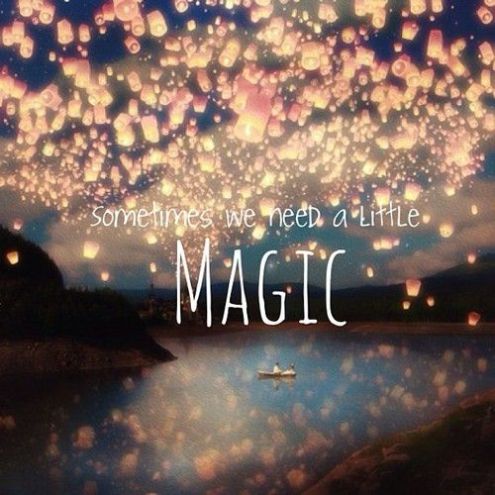 Our Engagement Story
Since we've been a long-time couple, we've started talking about our wedding plans since year 2012. At that time, we've come to realize that the number 15 has been such a lucky number for both of us so we've opted to just wait for the year 2015. We both wanted to still celebrate the same date every year since we became a couple and so we've decided to set our wedding date on 12-15-15. The official planning started last November 2014. I wanted to be more hands-on in planning for our wedding. I was daunted by the overwhelming task of starting from scratch, doing all the research for quality suppliers that wouldn't at the same time break the bank. With constant communication with Marc, things started to fall into place and we've started to book our different wedding suppliers.
Since we've talked about the wedding plans for the past several years already and because we were both already in the thick of things for the wedding planning, the usual proposal and engagement scenario did not actually happen to us as a couple. I do remember though when we first came to South Korea, we passed by a novelty shop that mainly sells souvenirs and also jewelry that has amethysts (purple gemstone). We met the owner of the shop & she mentioned that the amethyst is good for the body and soul, that it brings spiritual healing, good well-being and love to the person wearing it. I didn't doubt it for any second and so Marc, generous as he is, he bought me this gorgeous amethyst ring that I since then considered as my promise ring.
When we started planning for the wedding, we both realized how expensive it was to hold a Church wedding. So personally, I've always thought that the amethyst ring that I was wearing would also be my engagement ring already. I was really okay with that because of all the finances that needed to be considered and I didn't want to expect that he'll be giving me another special ring. But then again, this happened…
THE GOOD. I was asking Marc if we can schedule our Pre-Cana Seminar (seminar that needs to be attended by a marrying couple) last Oct. 3, 2015. He said that he's not available to do it and that he needed to go home to their house in Paco, Manila. I requested if he can just re-schedule it to another day because I'm worried that we might get behind for our schedule & that the Pre-Cana seminar are usually being held in churches during every First Saturday of the month only. Marc was adamant that he's not available on the said date & that he can't re-schedule it. Saturday came and he packed his usual backpack and kissed me goodbye.
Hours passed, and while I was preparing to take a bath, I suddenly received a text from him asking me if I was ready to play a game. I was surprised not because he was being like a mischievous child (we always try our best to scare the wits out of each other) but because, it was the first time he asked me this type of question in all those years that we've been together. He said that we'll be playing an Amazing Race challenge. He actually booked me a flight to Hong Kong a month ago already last Sept. 5, 2015. So he sent me an email, providing me all the instructions & my ticket to Hong Kong and that I needed to bring my best dress, pack lightly & go to the airport for my scheduled flight.
THE BAD. Although I was giddy with excitement while I was packing my things (by the way thanks to my sister Ate Jen-Jen who gave me a manicure & pedicure & to my mom who helped me pack my clothes), I was also also starting to feel anxious because in all those times that we've traveled, I have always been accompanied by Marc or I'm with my family. This will be my first ever flight, ALONE. But then again, I thought, this must be his challenge for me. So I waited to board my plane and once inside, I muttered a quick prayer for a safe flight. It takes about usually 2 hours for the flight from Manila to Hong Kong. And this was the longest, most terrifying 2 hours flight that I've ever had my entire life…
I was seated along the aisle, and then there's another guy seated by the window, our middle seat was empty save for my bag. Mid-flight, our plane started to feel the turbulence. And a lot of really sudden, violent drops of the plane. We were like on a roller coaster (really not exaggerating here). My heart was beating so fast that I can barely breathe because of what I was experiencing. I can't believe that it was actually happening on my FIRST FLIGHT ALONE. I started praying Our Father's, Hail Mary's & Angel of God, over and over and over again. I never stopped. I didn't have the courage to. The Chinese woman sitting along the opposite aisle kept on throwing up on her paper bag. Every violent, sudden drop of the plane, felt like my heart stopped beating. I honestly felt that it was my time. And I really wanted to cry already but I kept my focus on saying my prayers. I was praying earnestly for the horrid turbulence to stop. The guy sitting by the window noticed my fear and assured me not to think about "it". After several minutes, he pointed to me a piece of land which happened to be the Hong Kong International Airport runway. From then on, I started breathing normally.  When we landed, everyone literally heaved a sigh of relief. When I was already inside the airport, there was a notice on the LED screen saying that Hong Kong was currently experiencing a storm, Signal No. 3. I was overwhelmed with gratitude, said my prayers thankful that the plane was still able to land safely.
When Marc met me at the airport, the first things I said to him was "I hate you, I hate you". Of course, I don't really mean it, I just had to express all the fear that I had gone through during the said flight. Marc understood because he underwent the same thing himself on his earlier flight & that his plane also went on circles for 30 minutes in the air because of the strong winds & rain. Marc stayed at the airport waiting for me to arrive. While I was relating to him my experience, Marc said he knows and that he actually downloaded a flight tracker app to track my plane, mushy as it may seem to you guys but I was deeply touched, enough to let me know he's genuinely concerned for me.
THE BEAUTIFUL. We took a rest for just 4 hours and then we spent whole day Sunday at Chow Sang Sang, Chow Lai Fook, King Fook Jewellery, also even in Swarovski  store looking for the perfect engagement ring that Marc wanted to give me. I've always dreamed of having an emerald-cut engagement ring and we saw the perfect ring, no other than at the Tiffany and Co. store branch in Peninsula Hotel in Hong Kong. Oct. 4, 2015 will be one of the most memorable days in my entire life. This marks the day that we got officially engaged. No on-bended knees proposal. Just a simple, heartfelt gesture of letting me choose the ring I want.  Having experienced the most terrifying moment of my life, this is still trivial compared to the insurmountable joy Marc gave me. Not by giving me a diamond engagement ring but how much amount of effort that he went through to keep it all by himself for a month planning for me this surprise. The thought and the effort alone makes my heart melt by leaps and bounds more than the material thing. Because it all boils down to his sincerity of letting me know I was loved by him, truly, madly, deeply & sincerely. Enough to make me say that IT'S ALL WORTH IT..
On the accompanying booklet of the ring he bought, it says the following message..
THIS IS THE RING THAT HOLDS THE PROMISE
_______________
In 1886, Charles Lewis Tiffany introduced the
engagement ring as we know it today.
The legendary Tiffany setting with its
superlative diamonds captivated the world and
found a place at the heart of the greatest love stories.
This Tiffany Engagement Ring is a brilliant and
lasting symbol of profound commitment
and the promise of the brightest possible future.
Every life shared begins with a question.
WILL YOU?
_______________
For you Hon, a zillion times over,
I WILL…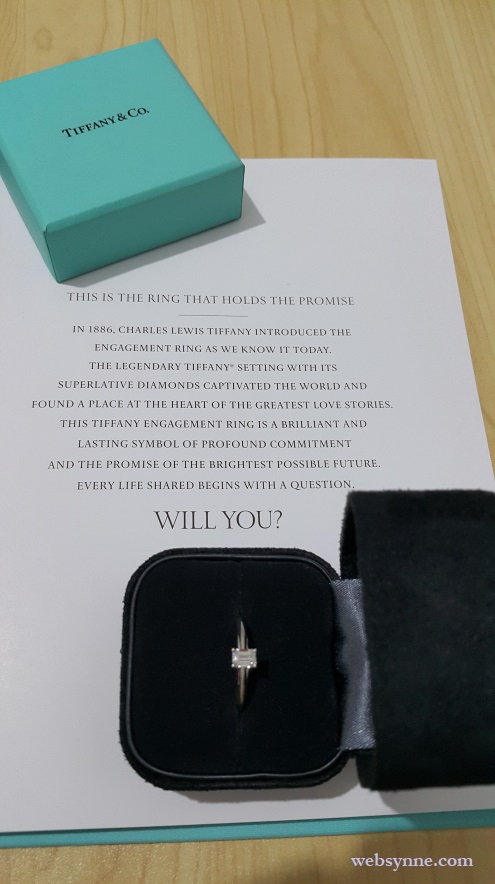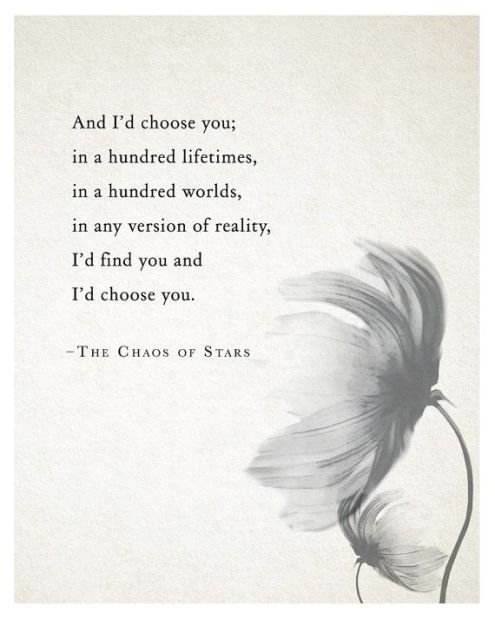 Be grateful and kind,
websynne